Company Information
Find out about Sanwa Loss Adjusters.
Company Credo
Always be model citizens.
Cultivate your character as loss adjustment professionals, and devote yourselves to improving your knowledge and skill.
Take courage and stand up against wrongdoing.
Aim to stay cool and collected in all dealings.
Respect others whether they are inside or outside the firm.
Company Overview
Founding

1942

Incorporation

1975

Capital

10,000,000 yen

Representative

Representative Director Masaaki Fujiwara

Number of Employees

74 (60 adjusters) *As of April 2021

Business Activities

Property damage adjustment in the field of general insurance. Value assessment of insured property. All other advice and support related to general insurance.

Group Companies

Trust Claim Services Co., Ltd.
Bank

Sumitomo Mitsui Banking Corporation

Technical Advisors

Structures and structural strength inspection authorities, general industrial machinery, chemical plants, temple and shrine architecture, works of art, stone materials, precious stones, kimono, landscape gardening, horticulture

Qualifications

Class 1 adjusters: 9, Class 2 adjusters: 23, Class 3 adjusters: 28
building surveyors: 32, Class 2 architects: 3
Class 1 and Class 2 construction management engineers: 1 each others

Member Associations
Organizational Chart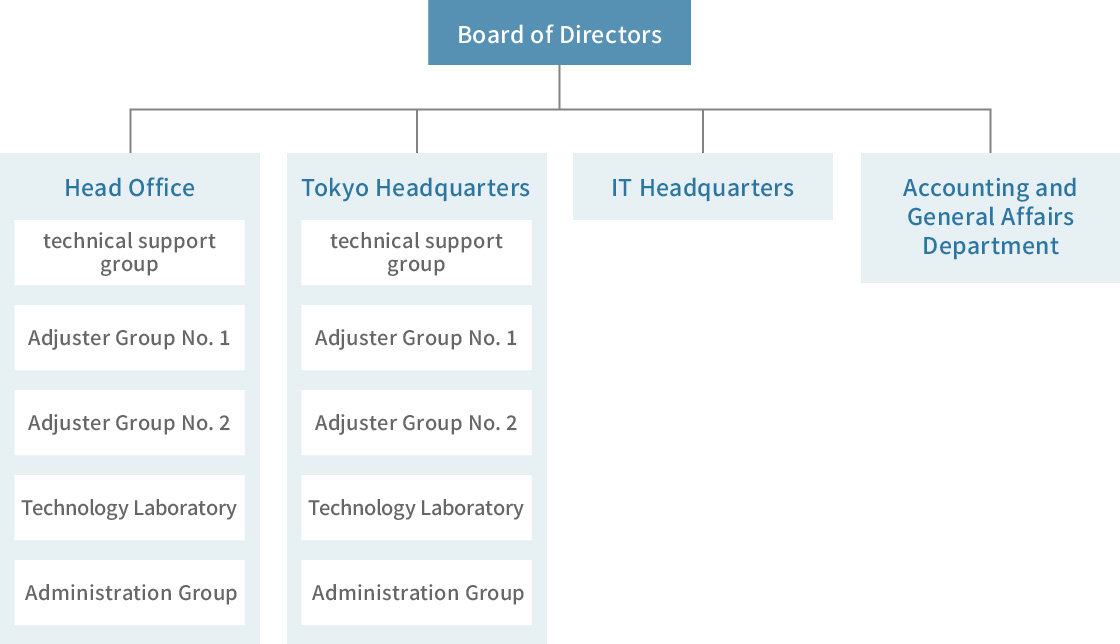 History